Support Ascension Texas Today
Your support helps us serve those most in need while also offering the best care to all our patients.
Make a Gift
Together we're transforming healthcare right here in the heart of Texas
The Ascension Texas Foundations encompasses Dell Children's Foundation, Seton Hays Foundation, Seton Williamson Foundation, The Seton Fund, and Providence Foundation. These five foundations support 14 Ascension Texas hospital campuses throughout Central Texas.
Who We Are
With constant changes in healthcare and reimbursement models, our hospitals, caregivers and communities rely now, more than ever, on the donors who sustain the expansion of our Mission to care for all, especially persons most in need. As the safety net hospital for adults and children in Central Texas, Ascension Seton, Ascension Providence and Dell Children's serve our patients regardless of their ability to pay.
Philanthropy and investment from our community allow Ascension Texas Foundations to serve those most in need while also offering the best care to all our patients.
Watch To Learn More About Who We Are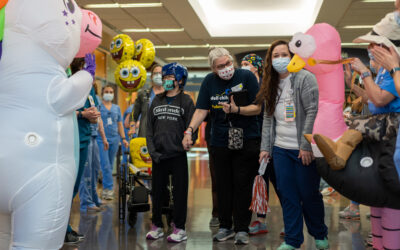 Saving Grace: Second heart transplant celebrated at Dell Children'sFor the first 13 years of her life, Grace didn't know what it was like to live...
read more
Your Impact
We can give you all the facts and figures from 2021, and we will. However, the impact of the past few years is best demonstrated by the incredible stories of heroic acts, selfless care, passion, and resiliency of our caregivers, patients, and supporters. I hope you will join me in reflecting on the year and the impression you have had on your community in a time it was most needed.