When you join the team of Ascension Volunteers, you're not just joining a group – you're becoming part of our Ascension family! Our volunteers are a diverse group of dedicated people with a heart to serve others. When you walk through the front doors of an Ascension hospital, a volunteer is likely the first person you'll see. Teachers, grandparents, college students, former nurses and therapists, bankers, business owners, empty nesters, retirees and more – our volunteers come from different backgrounds, but they are united by their compassionate spirits and dedication to our mission of service. Each person carries a unique set of life skills and experiences that bring warmth and kindness to our families, patients, and visitors.
Contagious smiles, comforting presences, huge hearts – our volunteers make each Ascension hospital feel like home. If you have a servant heart and desire to bring compassion to your community, the Ascension volunteer program is the place for you!
Take a closer look at the Ascension Texas Volunteer Program and hear why our volunteers choose to serve with Ascension!
Volunteer requirements and application windows vary by site. Learn more in the sections below.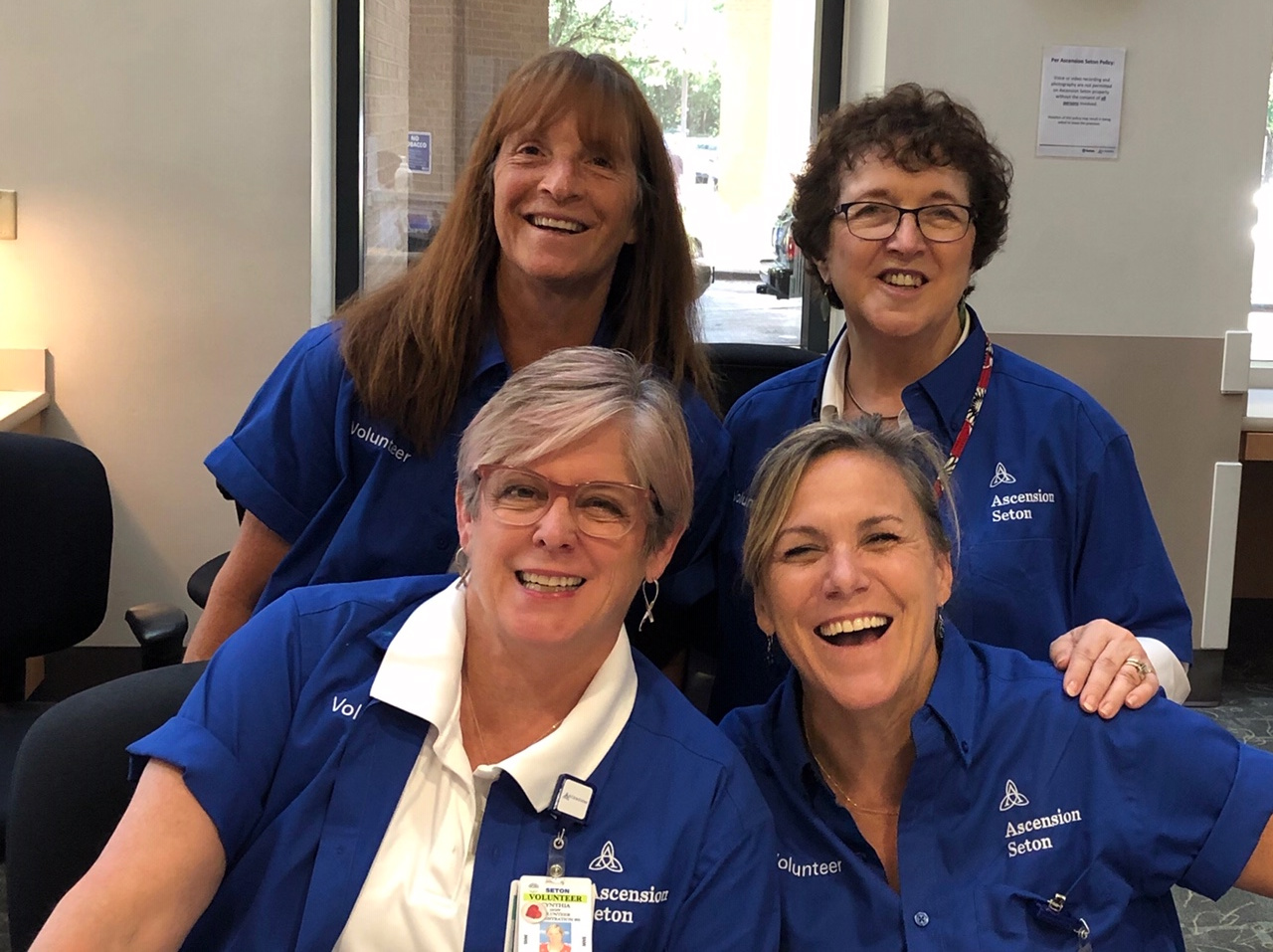 Volunteer Expectations
Volunteers serve inside the hospitals and in outpatient clinics throughout the area. They provide non-clinical support to our staff, freeing up our staff to spend more time with our patients. Volunteering is a great way to make new friends and make a difference all at once!
Volunteers commit to a 3 or 4 hour shift each week. Shifts are available 7 days each week. Due to the time and effort we put into screening, onboarding, and training new volunteers, we require a minimum 6 month commitment. Our volunteer program includes college students, retired adults, and adults who are still active in the workforce.
If you are currently active in the workforce and your employer offers Volunteer Time Off or donations to the Non-Profit organization where you will be serving, please reach out to one of our Directors of Volunteers so that we can discuss opportunities. We are grateful for your employer's commitment to serving their greater community!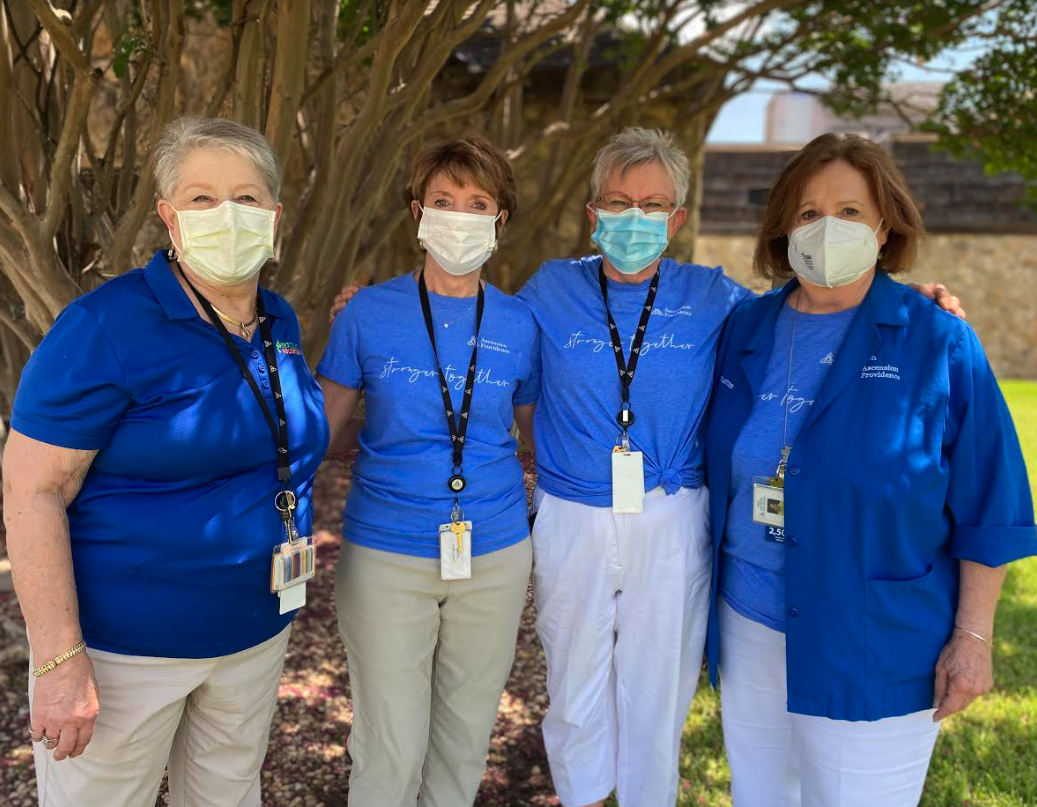 Volunteer Requirements
Due to the nature of our work there are a number of requirements that all Ascension Volunteers must meet. Please review the Immunization requirements and General requirements below before submitting your application.
Immunization Requirements
All Ascension Texas volunteers must meet these immunization requirements:
MMR – Measles, Mumps, Rubella
Varicella – Chicken Pox (either history of disease or proof of vaccination)
TB (tuberculosis) must be a TB blood draw QFT Gold or Tspot within 90 days of application submission
Flu shot is required during the December and April application periods. If you are applying during the month of July, flu shots are not required.
TDAP within the last 10 years
Covid-19 Vaccination
Application Times
Application windows for all sites (except for Ascension Providence in Waco) is April, July and November and will be updated here when open. Ascension Providence in Providence Waco accepts applications year-round.
Dell Children's Medical Center (Austin) – APPLICATIONS CLOSED
Dell Seton Medical Center (Austin) – APPLICATIONS CLOSED
Ascension Providence (Waco) –

APPLICATIONS OPEN

Ascension Seton Medical Center (Austin) – APPLICATIONS CLOSED
Ascension Seton Hays (Kyle) – APPLICATIONS CLOSED
Ascension Seton Shoal Creek (Austin) – APPLICATIONS CLOSED
Ascension Smithville/Bastrop – APPLICATIONS CLOSED
Ascension Seton Williamson (Round Rock) – APPLICATIONS CLOSED
Site Requirements & Applications
Each Ascension Texas site has specific requirements and application windows for student and non-student volunteers. Please select the site below to review their requirements.
Dell Children's Medical Center (Austin)
Student Volunteers
Minimum 18 years of age
Must provide Social Security Number
Complete Volunteer Application
Meet volunteer immunization requirements (see above)
Consent to Criminal Background Check
Commit to 6 hours of service to each week (may be split it two shifts)
Complete orientation and training; details will be forwarded to accepted applicants
Ability to function independently with minimal supervision
Non-Student Volunteers
Minimum 18 years of age and not enrolled in school
Must provide Social Security Number
Complete Volunteer Application
Meet volunteer immunization requirements (see above)
Consent to Criminal Background Check
Commit to 4 hours of service to each week
Complete orientation and training; details will be forwarded to accepted applicants
Ability to function independently with minimal supervision
Dell Seton Medical Center (Austin)
Student Volunteers
Minimum 18 years of age
Must provide Social Security Number
Complete Volunteer Application
Meet volunteer immunization requirements (see above)
Consent to Criminal Background Check
Commit to 4 hours of service to each week
Complete orientation and training; details will be forwarded to accepted applicants
Ability to function independently with minimal supervision
Non-Student Volunteers
Minimum 18 years of age and not enrolled in school
Must provide Social Security Number
Complete Volunteer Application
Meet volunteer immunization requirements (see above)
Consent to Criminal Background Check
Commit to 4 hours of service to each week
Complete orientation and training; details will be forwarded to accepted applicants
Ability to function independently with minimal supervision
Ascension Providence (Waco)
Minimum 18 years of age
Must provide Social Security Number
Complete Volunteer Application
Meet volunteer immunization requirements (see above)
Consent to Criminal Background Check
Commit to 4 hours of service to each week
Complete orientation and training; details will be forwarded to accepted applicants
Ability to function independently with minimal supervision

Non-Student Volunteers
Minimum 18 years of age
Must provide Social Security Number
Complete Volunteer Application
Meet volunteer immunization requirements (see above)
Consent to Criminal Background Check
Commit to 4 hours of service to each week
Complete orientation and training; details will be forwarded to accepted applicants
Ability to function independently with minimal supervision

Ascension Seton Medical Center (Austin)
Student Volunteers
Minimum 18 years of age
Must provide Social Security Number
Complete Volunteer Application
Meet volunteer immunization requirements (see above)
Consent to Criminal Background Check
Commit to 4 hours of service to each week
Complete orientation and training; details will be forwarded to accepted applicants
Ability to function independently with minimal supervision
Non-Student Volunteers
Minimum 18 years of age and not enrolled in school
Must provide Social Security Number
Complete Volunteer Application
Meet volunteer immunization requirements (see above)
Consent to Criminal Background Check
Commit to 4 hours of service to each week
Complete orientation and training; details will be forwarded to accepted applicants
Ability to function independently with minimal supervision
Ascension Seton Hays (Kyle)
Student Volunteers
Minimum 18 years of age
Must provide Social Security Number
Complete Volunteer Application
Meet volunteer immunization requirements (see above)
Consent to Criminal Background Check
Commit to 4 hours of service to each week (may be split in two shifts)
Commit to a minimum 2 semesters of service
Complete orientation and training; details will be forwarded to accepted applicants
Ability to function independently with minimal supervision
Non-Student Volunteers
Minimum 18 years of age and not enrolled in school
Must provide Social Security Number
Complete Volunteer Application
Meet volunteer immunization requirements (see above)
Consent to Criminal Background Check
Commit to 4 hours of service to each week
Commit to a minimum 6 months of service
Complete orientation and training; details will be forwarded to accepted applicants
Ability to function independently with minimal supervision
Ascension Seton
Shoal Creek
Student Volunteers
Minimum 18 years of age
Must provide Social Security Number
Complete Volunteer Application
Meet volunteer immunization requirements (see above)
Consent to Criminal Background Check
Commit to 4 hours of service to each week
Complete orientation and training; details will be forwarded to accepted applicants
Ability to function independently with minimal supervision
Non-Student Volunteers
Minimum 18 years of age and not enrolled in school
Must provide Social Security Number
Complete Volunteer Application
Meet volunteer immunization requirements (see above)
Consent to Criminal Background Check
Commit to 4 hours of service to each week
Complete orientation and training; details will be forwarded to accepted applicants
Ability to function independently with minimal supervision
Ascension Seton Smithville/Bastrop
Student Volunteers
Minimum 18 years of age
Must provide Social Security Number
Complete Volunteer Application
Meet volunteer immunization requirements (see above)
Consent to Criminal Background Check
Commit to 4 hours of service to each week
Complete orientation and training; details will be forwarded to accepted applicants
Ability to function independently with minimal supervision
Non-Student Volunteers
Minimum 18 years of age and not enrolled in school
Must provide Social Security Number
Complete Volunteer Application
Meet volunteer immunization requirements (see above)
Consent to Criminal Background Check
Commit to 4 hours of service to each week
Complete orientation and training; details will be forwarded to accepted applicants
Ability to function independently with minimal supervision
Ascension Seton Northwest (Austin)
Student Volunteers
Minimum 18 years of age
Must provide Social Security Number
Complete Volunteer Application
Meet volunteer immunization requirements (see above)
Consent to Criminal Background Check
Commit to 4 hours of service to each week (may be split in two shifts)
Commit to a minimum 2 semesters of service
Complete orientation and training; details will be forwarded to accepted applicants
Ability to function independently with minimal supervision
Non-Student Volunteers
Minimum 18 years of age and not enrolled in school
Must provide Social Security Number
Complete Volunteer Application
Meet volunteer immunization requirements (see above)
Consent to Criminal Background Check
Commit to 4 hours of service to each week
Commit to a minimum 6 months of service
Complete orientation and training; details will be forwarded to accepted applicants
Ability to function independently with minimal supervision
Ascension Seton Williamson (Round Rock)
Student Volunteers
Minimum 18 years of age
Must provide Social Security Number
Complete Volunteer Application
Meet volunteer immunization requirements (see above)
Consent to Criminal Background Check
Commit to 4 hours of service to each week (may be split in two shifts)
Commit to a minimum 2 semesters of service
Complete orientation and training; details will be forwarded to accepted applicants
Ability to function independently with minimal supervision
Non-Student Volunteers
Minimum 18 years of age and not enrolled in school
Must provide Social Security Number
Complete Volunteer Application
Meet volunteer immunization requirements (see above)
Consent to Criminal Background Check
Commit to 4 hours of service to each week
Commit to a minimum 6 months of service
Complete orientation and training; details will be forwarded to accepted applicants
Ability to function independently with minimal supervision